Safety Radar Sensors - Inxpect
We are Authorized Channel Partners, Distributor, Dealer, Importer for Inxpect Safety Radar Sensors, Safety Radar Sensors, Safety Scanners, Safety Ladars, Radar, Laser Scanners
Smart Safety
Industrial safety at its best: Inxpect safety radars detect access or presence of operators in dangerous areas, allowing real-time dynamic setting of the detection and warning zones.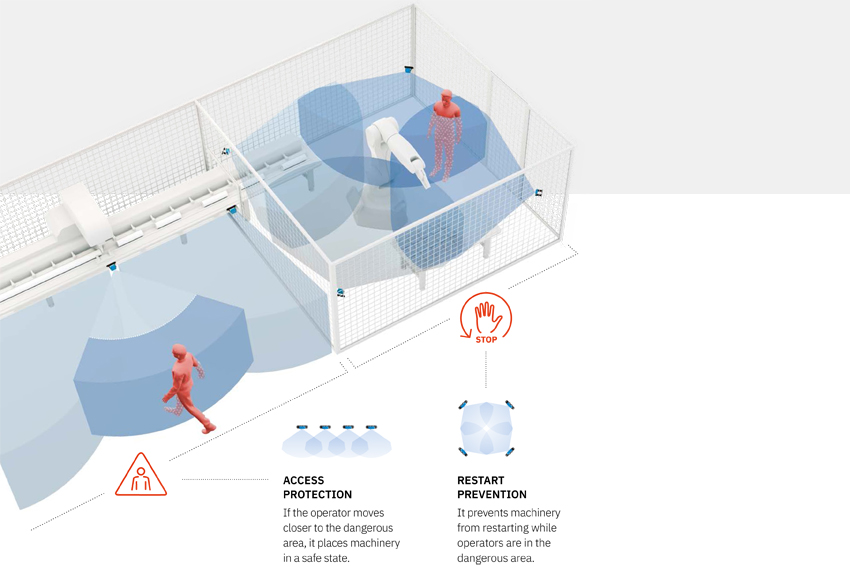 | | |
| --- | --- |
| World's first SIL2 / PLd and UL Listed safety radar systems | REQUEST A QUOTE |
LBK Systems: the very first industrial safety radar to be listed by UL.
It works where optical sensors stop. High safety without compromising productivity
Optical devices often fail due to dust, smoke, water or waste generated by the production process. The Inxpect team, highly specialized in radar technology, has developed a sophisticated long range radar algorithm that filters out those disturbances, reducing false alarms and increasing productivity.



DYNAMIC MODIFICATION OF THE DETECTION ZONE
The sensor parameters can be configured in real-time, allowing a dynamic modification of the detection zone. This feature makes them perfect solutions for mobile robotic applications.




IMPROVE THE COMMUNICATION WITH THE MACHINERY
The modular fieldbus in Inxpect Systems allows Inxpect sensors to exchange safety data, such as the position of the target, in real time with the machinery's PLC. This allows an effective integration with the machinery's control system.




SECURE CONFIGURATION
Whether you chose USB or Ethernet for configuring Inxpect Safety Radar Systems, we got you covered. In all cases, Inxpect control units and the Inxpect Safety Application cooperate in full security.




RESPONSE TIME < 100 ms
With response times lower than 100 ms, you can save space and reduce the area required to stop the machinery

Inxpect Safety Radar systems are composed of a control unit and up to six smart radar sensors: high flexibility, from simple to complex scenarios.
Configuring the system is quick and easy, thanks to the user friendly Inxpect Safety Application.
Guided validation procedures and the simple generation of the configuration report complete each installation.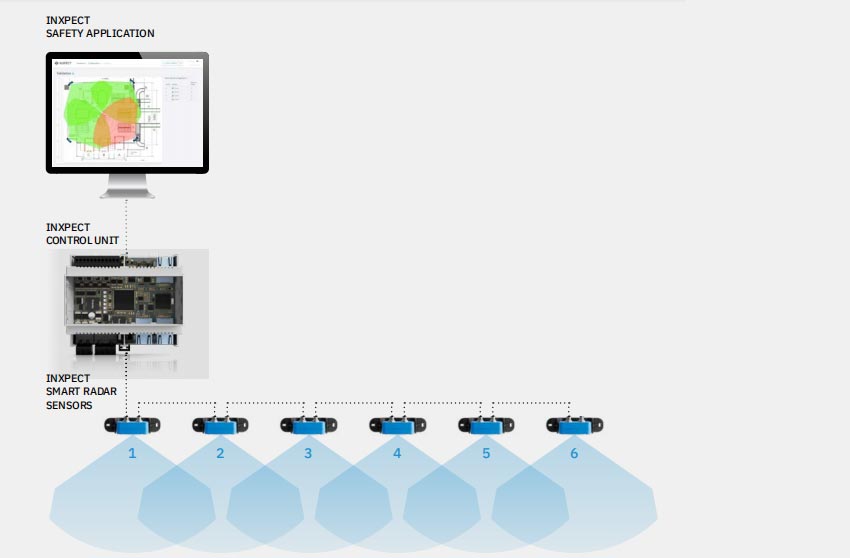 A perfect alignment between sensors is not required.




The provided Inxpect Safety Application allows to manually set up to 32 different configurations to be selected dynamically in real time.




Programmable Muting function: the configuration of sensor groups that can be temporarily muted allows operators to safely access parts of the dangerous area, according to production needs.

LBK - S01 The world's first SIL - Rated and UL listed safety radar sensor
TWO CONFIGURABLE FIELDS OF VIEW ( FOV )

1. Wide
• Horizontal Plane: 110°
• Vertical Plane: 30°


2. Narrow
• Horizontal Plane: 50°
• Vertical Plane: 15°


The safety radar solution that is easy to integrate

The first SIL-rated radar system. With universal digital I/Os, a cost-effective solution to combining safety with productivity.


All the power and flexibility of a Fieldbus

Take radar safety to the next level with the power and flexibility of Inxpect's modular safety bus architecture.


The LBK-S01 sensor is a smart FMCW (Frequency Modulated Continuous Wave) radar device based on proprietary Inxpect detection algorithms. The sensor sends radio waves and recovers motion information, analyzing the returned signals reflected by both static and moving objects in the operative range.

The sensors perform the following primary functions:
• Motion and scenario analysis.
• Communication via CAN bus to the controller of the motion detection signal.
• Fault reporting and communication of diagnostic information via CAN bus to the controller.





TECHNICAL DETAILS

Connectors

Two 5-pin M12 connectors (1 male and 1 female)

CAN bus termination resistance

120 Ω (not supplied, to be installed with termination connector)

Power supply

12 V dc ± 20%, through controller

Power consumption

1,2 W

Degree of protection

IP67

Case material

Sensor: PA66 | Bracket: PA66 and glass fiber (GF)
The Inxpect LBK-C22 can connect up to six LBK-S01 smart sensors. Intervention of any single sensor results in the deactivation of the safety outputs of the controller. It can be configured with the Inxpect Safety PC application through USB cable connection, which allows the configuration of sensitivity levels, safety functions, size of warning and dangerous areas, and the functionality of the I/O ports of the controller.

DIGITAL INPUTS
The controller has three dual-channel digital inputs and common reference potential for:
• muting (high logic level (1) = muting enabled)
• machinery emergency button (low logic level (0) = stopping enabled)
• machinery restart button enabled The digital inputs can be configured through the Inxpect Safety application software.

SAFETY OUTPUTS
The controller has one dual-channel, force-guided safety relay output for alarms and direct or indirect safety of the machinery.

AUXILIARY OUTPUTS
The controller has two auxiliary relay outputs, which can be configured to signal: pre-alarm, fault, muting status.


• A - Digital inputs status LED
• B - Sensors CAN bus terminal block
• C - Micro USB port for the communication with the Inxpect Safety App
• D - Safety outputs status LED
• E - Auxiliary outputs status LED
• F - Power supply terminal block
• G - Digital inputs terminal block
• H - System status LED
• I - Safety outputs terminal block
• L - Auxiliary outputs terminal block




TECHNICAL DETAILS

Outputs

4 relay outputs: 1 dual channel safety output | 2 auxiliary outputs

Safety outputs

Forced guided relays, Max voltage: 30 V dc | Max current: 8 A dc | Max power: 240W

Auxiliary relay outputs

Electromechanical relays, Max voltage: 30 V dc | Max current: 2 A dc | Max power: 60W

Inputs

3 dual channel digital inputs with common GND: 1 type 1 | 1 type 2 | 1 type 3

Power supply

24 V dc (20–28 V dc) Max current: 1A

Max power consumption

3,8 W

Assembly

DIN guide

Degree of protection

IP20

Terminals

Section: 2.5 mm2 | Max Current: 12A with 2.5 mm2 cables
The metal protector ensures that Inxpect sensors perform at their best even in the most challenging environmental conditions, increasing their immunity to spurious detections while reducing the possibility of damage caused by accidental impact.


Inxpect redefines safety for wrapping stations. Inxpect 3D radars can be positioned overhead to create a volumetric barrier for access protection: this configuration makes a better and safer human / machine interaction.

Main features:
• Robust to smoke, dust, debris, rain, fog, snow and light reflections
• Dramatic reduction of floor occupancy
• Simplify human/machine interaction
• Improve productivity