Hengstler Encoders
We are Authorized Channel Partners, Distributor, Dealer, Importer for Hengstler Encoders, Encoders, Counters, Counters Relays so many more products. It's a German Base Company.
• Single-turn and multi-turn absolute encoders
• Broad temperature range: -40 to +100°C
• Resolution: up to 34 bits (22 bits in single-turn, 12 bits in multi-turn, depending upon interface)
• Up to 35 arc sec accuracy
• Geared multi turn memory (Battery Less)
• Stainless steel version available
• Pre-Error signal alarm output for Industry 4.0

No glass disc
- High resolution unbreakable code disc (Metal & Millar Plastic)
No narrow air gaps
- Ca. 80 µm, Standard : ca. 8 µm Stable and repeatable output signals even under high vibrations
Phased Array Opto Asic Technology
- Single Phased Array Sensor: LED and lens in one module No adjustment of quadrature, air gap.

• Overall Dia 20mm to 150mm
• Heavy Duty Encoder has Thermal & Electrical Insulation
• Premium shock and vibration Resistance (400G shock, 30G vibration)
• High speed 10,000 RPM continuous
• Supply voltage 3V to 38V DC

MEASURING WHEELS
General information
In order to prevent the result being distorted when the shaft encoder is driven by a measuring wheel make sure that the slip is as small as possible. When selecting the tread (surface), take into account the structure, stretchability, thickness, and resistance to being carried along of the material being measured. The slip is also affected by the width of the measuring wheel, the contact pressure, the tension in the material being measured, and the arc of contact. The arc of contact should be as large as possible. The wheel bodies are made of cast aluminium or plastic (as marked). The position of the measuring wheel should be chosen so that the direction of movement of the material is away from the shaft encoder's bearing point.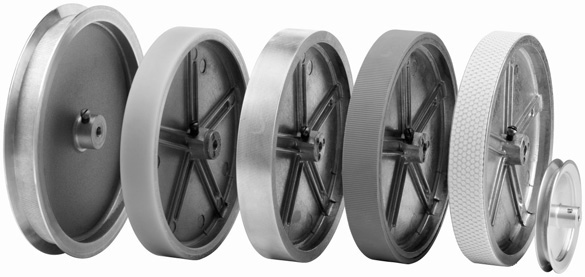 Tread 1
With rim and fine crosshatched knurl Material: aluminium
Applications such as threads and yarns
Tread 2
With glued-on rubber profile
A = soft specially clinging rubber surface (red)
B = low-wear rubber surface with good grip (white)
Applications such as paper and cardboard, measuring cables, nongreasy metals, fleece, undressed or surface-treated wood, soft and hard plastics.
Tread 3
Vulcanized rubber surface with parallel knurl
Applications such as rubber, leather, fabrics, flooring and glass.
Tread 4
Aluminium with parallel knurl
Applications such as rubber, soft plastics, wood with rough surface, and to a limited extent for fabrics.
Tread 5
With rim, aluminium with parallel knurl
Applications such as threads, yarns and bands.
Tread 6
Plastic surface
Applications such as wire, greasy metals, and steel sections.
FLEXIBLE COUPLINGS
Absolute Encoders - ACURO AC36
| | | | | |
| --- | --- | --- | --- | --- |
| | | | | |
| Bellows Couplings | Disk Couplings | Isolated Disk Couplings | Plastic Couplings | Helical Couplings |
Technical Specification

Bellows Couplings

6 mm / 6 mm

Disk Couplings

6 mm / 6 mm

Isolated Disk Couplings

6 mm / 6 mm

Isolated Disk Couplings

6 mm / 10 mm

Plastic Couplings

5 mm / 6 mm

Plastic Couplings

6 mm / 6 mm

Helical Couplings (19/28)

5 mm / 6 mm

Helical Couplings (19/28)

6 mm / 6 mm

Helical Couplings (25/32)

6 mm / 9,53 mm
Helical Couplings (25/32)
6 mm / 10 mm
FLEXIBLE COUPLINGS
Incremental Encoders - ICURO RI58
| | | | | |
| --- | --- | --- | --- | --- |
| | | | | |
| Bellows Couplings | Disk Couplings | Isolated Disk Couplings | Plastic Couplings | Helical Couplings |
Technical Specification

Bellows Couplings

12 mm / 12 mm

Bellows Couplings

10 mm / 10 mm

Bellows Couplings

9.53 mm / 9.53 mm

Bellows Couplings

6 mm / 6 mm

Bellows Couplings

8 mm / 10 mm

Disk Couplings

6 mm / 6 mm

Helical Couplings 19/28

5 mm / 5 mm

Helical Couplings 19/28

5 mm / 6 mm

Helical Couplings 19/28

6 mm / 6 mm

Helical Couplings 19/28

6.35 mm / 6.35 mm

Helical Couplings 25/32

6 mm / 9.53 mm

Helical Couplings 25/32

6 mm / 10 mm

Helical Couplings 25/32

6.35 mm / 9.52 mm

Helical Couplings 25/32

10 mm / 12 mm

Helical Couplings 25/32

10 mm / 10 mm

Isolated Disk Couplings

6 mm / 6 mm

Isolated Disk Couplings

6 mm / 10 mm

Isolated Disk Couplings

6 mm / 9.53 mm

Isolated Disk Couplings

6.35 mm / 6.35 mm

Isolated Disk Couplings

7 mm / 7 mm

Isolated Disk Couplings

10 mm / 10 mm

Plastic Couplings

5 mm / 6 mm

Plastic Couplings

6 mm / 6 mm

Plastic Couplings

5 mm / 5 mm