Cylindrical Sensors - FA BGS Series
We are Authorized Channel Partners, Distributor, Dealer, Importer for Micro Detectors, Cylindrical Sensors from Pune, Maharashtra, India.

M18 Direct Diffuse With Adjustable Background Suppression - FA BGS Series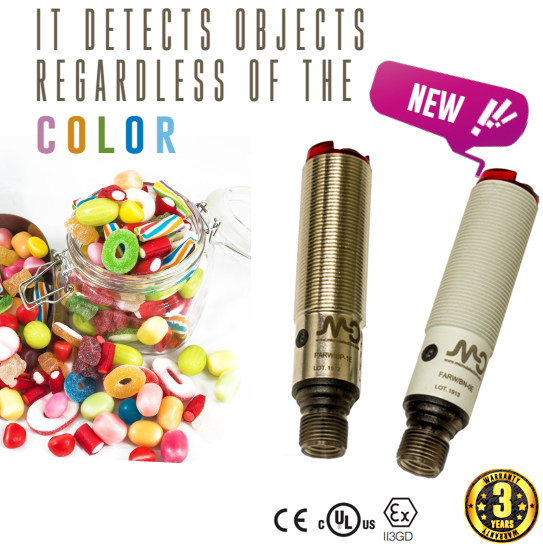 Special Features
:
• Up 300 mm adjustable reading distance
• Cable or M12 plastic plug versions
• Supply voltage 10...30 Vdc, output current 100 mA
• LED light status indicator
• IP67 protection degree
• Complete protection against electrical damages
• ATEX models, cat.3, available on request
• Approvals: CE and cULus Listed

From M8 to M18 with infrared red and laser emission. Extremely wide range of models available: adjustable with background suppression or fixed-focus; direct diffuse, retro-reflective, polarized, beam sensors and sensors for transparent objects. Up to 50 m sensing distance range; VDC and Vac supply; plastic, brass or steel housing; cable or plug output.
Special Features
• M8 through beam models with high switching frequency
• LED status indicator for all models
• Complete protection against electrical damages
• IP67 protection degree
• Stainless steel housing
• Supply voltage 10...30 Vdc
• Approvals: CE
Special Features
• Ø 10 mm plastic housing 41 mm length
• Ø 13 mm hole irreversibile spring latch fixing
• LED status indicator receiver only
• Complete protection against electrical damages
• IP67 protection degree
• Nominal sensing distance (Sn): 2 m ExG. = 4
• Supply voltage 15...37 Vdc (10...30 Vdc for EA version)
• Approvals: CE
Special Features
• Models diffuse reflection, polarized and through-beam
• Local and remote teach-in function
• Light-on / Dark-on selectable outputs
• IP67 protection degree
• Multifunction LED status indicator
• Complete protection against electrical damages
• Approvals: CE and cULus listed
Special Features
• Complete range of M18 sensors with 10...30 Vdc power supply
• Axial and radial optic with flat surface
• Retro-reflective models for transparent objects detection, with red emission
• IP67 protection degree
• Metallic or plastic housing
• Sensitivity adjustment available for all models
• Total protection against any type of electric damages
• Approvals: CE and cULus listed
| | |
| --- | --- |
| M18 Direct Diffuse with Adjustable Background Suppression - FA BGS Series | |

Special Features
• Up 300 mm adjustable reading distance
• Cable or M12 plastic plug versions
• Supply voltage 10...30 Vdc, output current 100 mA
• LED light status indicator
• IP67 protection degree
• Complete protection against electrical damages
• ATEX models, cat.3, available on request
• Approvals: CE and cULus Listed
| | |
| --- | --- |
| M18 Photoelectric Sensors DC LASER Emission - FA LASER Series | |

Special Features
• Complete range of M18 sensors with 10...30 Vdc power supply
• Axial and radial optic with flat surface
• Visible red laser emission models
• IP67 protection degree
• Metallic or plastic housing
• Sensitivity adjustment available for all models
• Total protection against any type of electric damages
• Approvals: CE and cULus listed
| | |
| --- | --- |
| M18 Laser with Ajdustable Background Suppression - FAL BAGS Series | |

Special Features
• M18 Photoelectric sensor Background Suppression with Laser emission
• Model in class I and class II Laser emission power
• Axial and Right angle optic materials
• Sensing distance adjustment by trimmer
• Collimated Light spot
• Complete protection against electrical damages
• Nichel brass housing
Special Features
• Model with side sens adjustment on axial and right angle optic
• LO/DO Selectable output
• ATEX model available on request
• LED status indicator for all versions
• Complete protection against electrical damages
• IP67 protection degree for all models
• Approvals: CE and cULus listed
Special Features
• Wide range of model: diffuse, retro-reflective, polarized, through-beam detection and background suppression
• Through-beam model with high sensing range
• Retro-reflective model with red visible polarizesd light
• Model with right angle optic (MP)
• Background suppression models with fixed distance
• Check function available for all through-beam models
• Complete protection against electrical damage
Special Features
• Wide range of models: diffuse, retro-reflective, polarized and fixed-focus
• All models are available with sensitivity adjustement trimmer
• Double LED Indicator (ON/OFF - Supply)
• NO/NC selectable output
• IP65 protection degree
• Complete protection against electrical damage
• Wide range of plugs. accessories and reflectors availabel
• Approval: CE
| | |
| --- | --- |
| M18 AC Multivoltage Output Photoelectric Sensors - MV Series | |

Special Features
• Wide range of models: Diffuse, Retro-reflective, polarized, through-beam
• Through-beam models with high sensing range
• Retro-reflective models with polarized light (With visible beam)
• M12 plug cable exit in axial or right angle shape
• Low leakage current and high output current
• IP67 protection degree
• Complete protection against electrical damage
| | |
| --- | --- |
| M18 With Fixed Distances Background Suppression and 900 Optics - MQ0 / MQ1 Series | |

Special Features
• Models with 50 mm or 100 mm max reading distance
• M12 plug connection
• Plastic housing
• Supply voltage 20...253 Vac
• LED output status indicator
• IP67 protection degree
Special Features
• Wide range of models: direct diffuse, retro-reflective, polarized and fixed-focus
• Direct diffuse models with short and long sensing distance, polarized and through beam
• Nickel brass or plastic housing
• NO-NC Complementary output
• P67 protection degree
• Complete protection against electrical damages
• Approval: CE
| | |
| --- | --- |
| M18 IP69K Photoelectric Sensors for Harsh Environments - FF Series | |

Special Features
• AISI 316L (DIN 1.4404) stainless steel housing
• LED Status indicators; yellow (output), green (teach-in function)
• P67-IP68-IP69K protection degree
• Complete protection against electrical demages
• ATEX Model available on request
• Direct diffuse, polarized, through beam models
• Innovative teach-in function through sensors housing
• Approvals: CE and cULus listed
M18 IP69K Photoelectric Sensors with Background Suppression for Harsh Environments - FFRS Series

Special Features
• Stainless steel housing AISI316L (DIN 1.4404)
• Protection degree: IP68-IP69K
• Complete protection against electrical damages
• New sensitive adjustment through sensor housing: on object or on background
• Special model with reduced spot dimension and good performance on reflective material
• Approval: CE and cULus Listed
Certificates of Dealership