Earth Leakage Relays & Timers
We are Manufacturer, Supplier, Exporter of Earth Leakage Relays & Timers and our setup is situated in Pune, Maharashtra, India.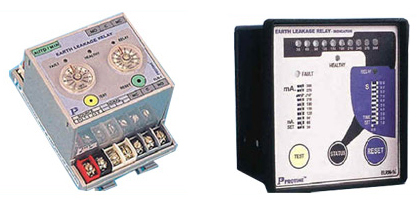 >

Technical Specification

Supply Voltage

110V/220V/380V/415V AC 50Hz or 12/24V DC

Permissible Supply Variation

20%

Output Contacts

Two change over (Potential Free)

Switching Duty

6A resistive at 24V DC or 240V AC

Signal.

From core balanced current transformer (CBCT)

Core Balanced C.T.

Tape wound or resin cast (with I.D. as per requirement)

Time Delay (optional)

0-10 sec settable

Reset

Auto/Manual resetting facility

Setting Accuracy

5% of Full Scale

Mounting

On Any standard mounting channel.

Dimensions

77mm(W) * 90mm(H) * 110mm(D)
>

Special Features
• Available with Auto/Manual Reset and test facility
• Compact and Smart design to fit on any standard mounting channel
• Total wireless interiors makes it highly rugged and error proof.
• Choice of screw less terminals
• Calibrated scale with 5% Accuracy and Indications for Healthy, Faulty and Relay 'ON'.
>

Connection Details
The relay senses the Earth leakage current for any equipment like L.T. Panels, Switch boards, Generators, Transformers, Motors etc. These leakage current if continues can cause insulation breakdown resulting Earth fault, which results in to loss of damage to equipment. The PROTIME Earth leakage relay senses leakage current through CBCT and energizes relay when current goes out of the range selected on the dial. The Relays are provided with user settable (0-10sec) time delay. The CBCt is connected externally with the Bus-bar or cable carrying load current passed through it.