We are Authorized Channel Partners, Distributor, Dealer, Importer for REER Safety Sensors from Pune, Maharashtra, India.
A complete range of sensors for positioning detection...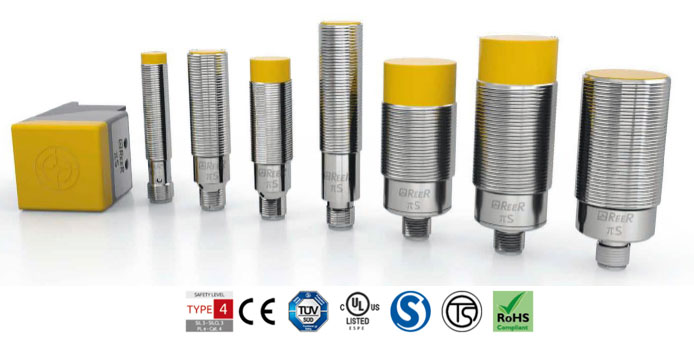 • Certification to EN 60947-5-3
• Ensuring operator and machine safety
• No special actuator requird
• Connection to Safety PLC or Safety Controller
Guaranteed safety


PI-Safe safety sensors increase the uptime and safety of installations and can be connected to approved evaluation units without cross-fault monitoring.

PI-Safe can generally be installed in all those applications that require a non-contact and safe detection of a metal object. Applications include reliable positioning on rotary indexing tables and machine tools, safe triggering of slow travel or switching off in end positions for presses, gantry robots and actuators.

Wear-free operation guarantees low maintenance costs. Faults such as coil break or coil short circuit are diagnosed switching the sensor into the defined safe state. Even a cross fault between the supply voltage and one of the two outputs does not affect the safety function of the sensor.
Next Generation Sensors for Machine Safety - Magnus RFID






The best in cost-effectiveness
Wear-free technology allows for longer product life time. Status LED and diagnostic output. Smallest design of RFID safety sensors. Full mechanical compatibility with Magnus MG S and MG B. Can be used as stand-alone.

The best in safety
Tampering protection in accordance with DIN EN 14119, the highest in its class. Screw covers prevent easy removal. Series connection up to PL e/SIL 3. IP67 and IP6K9K protection grade for use in harsh environments. Complies with the strict hygiene and cleaning requirements of the food and packaging industry.

The best in versatility
Dual mounting options. M12 connector or cable. 3 different coding levels. Extension cables for series connection

Magnus RFID - next generation
The application of Magnus RFID sensors can be extremely wide thanks to the compact and versatile design.

The different design and technology options as well as the complete mechanical compatibility with the Magnus MG magnetic sensors series, make this product extremely valuable for users. The RFID technology enables Magnus RFID sensors to be individually coded in three different ways to allow the appropriate tampering protection in all applications. The highest configurations allow each sensor to be paired with one only assigned actuator.

The RFID technology used allows to reach safety levels up to PL e/SIL 3 also when connecting the sensors in series. As a result, Magnus RFID sensors can be simply integrated in existing safety scenarios, offering a cost-effective solution for modifying and upgrading machines.
Magnus RFID is the ideal choice formany industrial applications, including food & beverage, packaging, pharmaceutics, printing, paper, logistics,renewable energies, chemicals, injection moulding and many more ...



Read more products :